Jewellery Valuations Explained
Areas of Confusion
A valuation is not proof of ownership - Valuers do not investigate title. However, it does prove that the property did physically exist.
Sentimental value is not considered - Property is appraised with regard only to materials, workmanship, scarcity, provenance, and relevant market forces.
Values applied to the same item can be very different, depending on WHY the valuation is required - Most confusion occurs when a credible value for a specific purpose is used for an inappropriate function and/or use.
Professionalism, pertinent to all the services provided, is the keyword, together with a commitment to excellence.

Values of the same item can be very different, depending on the DATE of the appraisal. - Precious metals, diamonds and gemstones are traded universally in US Dollars and bullion prices and exchange rates often change daily. Together with inconsistent market forces driven by fashion and desirability, these two variables mean values of the same property will inevitably fluctuate at different dates..
Virtual valuations should be avoided - Virtual valuations (i.e. values quoted for property that has been described by the owner online and images submitted) are not true valuations. No professional appraiser will express a credible value for an item without physically examining it. Internet sites offering 'Speedy Cheap Virtual Valuations' should be avoided.
Auction houses often advertise 'Free valuations' - This is a misnomer - they are in fact pre-sale estimates. They are simply a guide to what the property might achieve through that particular auction. The eventual hammer price represents good, fair, or poor value, as the purchaser inevitably discovers later.
---
Types of Valuations
Insurance Cover
Typically, replacement values determined are at the retail (high street) market level, which is often the highest of all possible appraised values. However, many people now buy their jewellery for less in divergent markets, which are sometimes acceptable to insurers.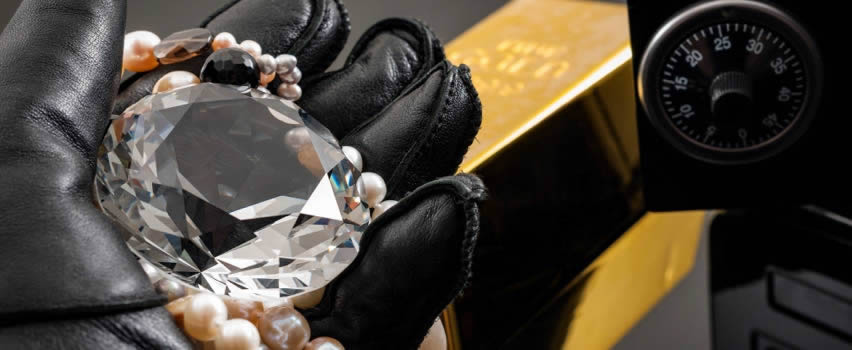 As premiums are calculated primarily on a percentage of the value, it is prudent to discuss with us these alternative market-levels, so that the most relevant and appropriate values can be agreed upon with insurers.
A somewhat startling statistic is the insurance industry estimates that 60%-70% of policyholder's jewellery is under-insured. Notwithstanding this, sometimes, unrealistically high values can be expressed by unregulated appraisers, and this can be for a variety of reasons. The most common is the 'feel good factor', as many people like to think they have bought a bargain or perhaps want to believe that their jewellery is worth a lot more than it is. Such overstated values are misleading and generally result in increased premiums. No professional registered valuer will sanction such a practice.
It is, therefore, prudent to have one's jewellery regularly appraised (perhaps every 3-5 years) by a Registered Valuer, which ensures all values are realistic and current, thus remedying those understated or overstated.
---
Probate
Probate valuations are prepared in compliance with Section 160 of the Inheritance Tax Act 1984, the purpose of which, is to obtain a Grant of Probate in a decedent's estate.
The Inland Revenue requires Open Market values to establish if any Inheritance Tax is likely payable. Such values are typically based on, albeit not limited to, the price the property would likely achieve if offered for sale at a hypothetical public auction, as at the date of death of the decedent, i.e. the notional hammer price, ignoring any possible deductibles levied by the auction house. Open market values bear little, or no, correlation to insurance values and can sometimes be a fraction of the same.
HMRC recommends professional valuers be employed to provide valuations for probate. However, contrary to common knowledge, single items with an individual value less than £1,500 do not generally need to be specified.
However, if there are numerous such items, these should be listed with rudimentary descriptions only and an aggregate total value expressed.
Some inexperienced, or perhaps unregulated valuers, can express unrealistically low, or ridiculously high, open market values on jewellery when appraising it for probate. Such low values can be challenged by HMRC, as it employs its own specialist experts. This can result in a charge of negligence being brought against the valuer, and/or the executors, perhaps ending up in a fine of up to 100% of the extra liability.
Unnecessarily high values for probate may well lead to an increased Inheritance Tax liability.
---
Sale Between Parties (Private Treaty)
This occurs when a valuation is required as a basis of negotiation between two private individuals in a proposed willing buyer/willing seller situation. The level of value required can depend on the circumstances, but typically the seller wishes to maximise the price received, whereas the potential buyer wishes to minimise the price paid.
Both parties should understand that the seller will expect to receive more than the likely net proceeds of sale from, say an auction sale, or an offer made by a dealer/shopkeeper, and the potential buyer will expect to pay less than the retail price, or the gross price payable if the item was purchased at auction.
---
Cash Liquidation / Division of Property
Such valuations can be for diverse purposes and, whilst their functions and intended uses are often informal, sometimes these are necessarily formal, perhaps having legal ramifications.
The most common informal instance is typically when the owner wishes to convert the property into a notional cash sum but is in no immediate rush. This calls for a 'conventional open market' value and generally embraces a willing buyer/willing seller situation, representing the likely price the property would probably achieve at a public auction (i.e. the notional hammer price, ignoring any probable deductibles such as commission, photography, marketing costs and relevant taxes, etc.).
Another informal use is typically when a Testator needs to know the value of their goods and chattels prior to bequeathing certain items to specific beneficiaries in a proposed Will. A further informal instance is when Executors of a deceased's estate need to notionally divide unbequeathed items fairly amongst family members and other beneficiaries.
Notwithstanding this, in all these informal cases, depending on the circumstances and/or the client's instructions, the value expressed can be the net open market value, representing the amount likely to be received by the vendor following a hypothetical sale at public auction (i.e. notional hammer price, less any probable deductibles).
The more formal (legal) instances are generally in a divorce settlement (or legal separation), a pre-nuptial contract, or in a legal division of personal goods and chattels amongst interested parties. In such instances, unless otherwise directed, a 'conventional open market' value is generally required as it permits the parties and/or the Court to apportion the property between the parties concerned notionally.
In all instances, whichever version of Open Market value is determined, it is paramount that it is clarified in the Valuation Report.
---
Forced Sale
This type of valuation is typically required when a willing buyer/willing seller situation does not exist. It mostly occurs when the owner of the property is compelled, for whatever reason, to convert it into immediate cash.
Alternatively, it is required by financial institutions (or other money lenders) when they are proposing to lend money and take the property as a form of security against possible default on repayment of the loan.
It represents notional cash offers expected to be made by dealers and merchants on the day and is NET of any possible deductibles. Forced Sale is the lowest of all possible appraised values and often represents a reduced scrap value of the property, generally significantly below its intrinsic worth.