Modus Operandi - Jewellery Valuations
Outlines how JEMS works with you
First and foremost, WE COME TO YOU - wherever you are!
For your further convenience and under certain circumstances, we can sometimes arrange evening and weekend appointments.
Operational Area
Whilst our activities are mainly concentrated in London and the Home Counties, nationwide and overseas commissions are also accepted.
Normally, we come to you... wherever you are.

Risk Elimination
Our visiting valuer service means that you no longer need to run the security risk of taking your treasures to the jewellers. Additionally, another risk can occur because they are sometimes sent off by the jeweller, often through the post, to an independent valuer who then returns them the same way. The final risk occurs when you collect them from the jeweller to take home.
These are unnecessary hazardous journeys for one's most precious possessions, many having sentimental value, as well as a monetary one.
99% of our appraisals are carried out on-site in the safety and comfort of your own home, at your bank or even at your place of work.
---
On-site Valuations - the Process
Our on-site appraisals embrace the examination and cataloguing of your jewellery using portable state-of-the-art equipment. This involves identifying (and testing, as and when appropriate) its various component parts, including the metals, authentication of the gems/diamonds, and assessing their number, size, and quality. During this process, digital photographs are taken for later reference and inclusion in the Valuation Report. It is rare for us to request to take anything away for research, etc.
Generally, verbal values of the property are not given whilst we are on-site as, on occasion, this can prove to be somewhat misleading. Research and/or calculation of values inevitably takes place off-site at our premises, where there is internet access and our extensive research library.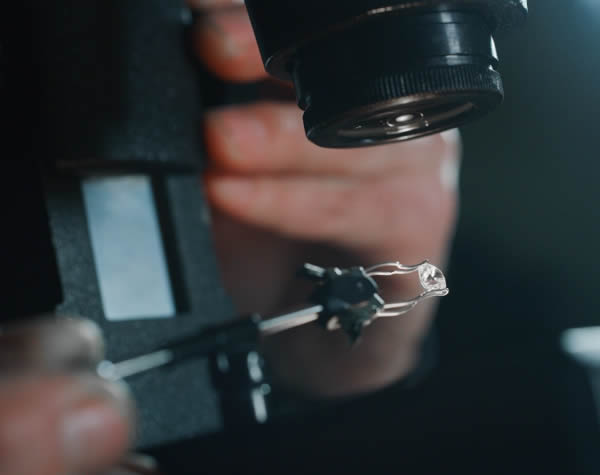 Draft Report
Depending on the volume and nature of the items under appraisal, directly the determination of values has been completed, a DRAFT Report is forwarded to you by e-mail for your approval. This DRAFT Report contains a detailed narrative of the items of property, together with the inclusion of all relevant specifics and, of course, the digital image gallery mentioned earlier. Any issues are then addressed and/or any provisional values discussed.
Final Report
Once your questions have been addressed and any issues have been dealt with, the Report is finalised.
An invoice is then raised for the work incurred and directly payment is received in full (i.e. cleared funds), the password-protected Valuation Report is e-mailed to you, which can then be forwarded to any authorised third party (e.g. insurer, accountant, lawyer, etc.)
Should you so desire, we can also provide a bound original document. Notwithstanding this, insurers seldom ask to see the original, so we rarely now receive such requests because most clients are mindful of 'Saving the Planet' implications, preferring to store the document electronically. Consequently, many clients regard lavishly bound glossy valuations to be an unnecessary expense.